No rest for the wicked, no ice water for not-heaven dwellers, and no parking place for Mrs. Hillbilly Mom.
As you might have heard, Mrs. HM has been on her near-death bed for 36 hours, her throat lined with light bulb shards dipped in alcohol and rolled in asbestos. Yet out of the kindness of her heart, she dragged herself to the shower shortly after noon, ran hot water over her neck until her her throat was as flamboyant as that of the magnificent frigatebird...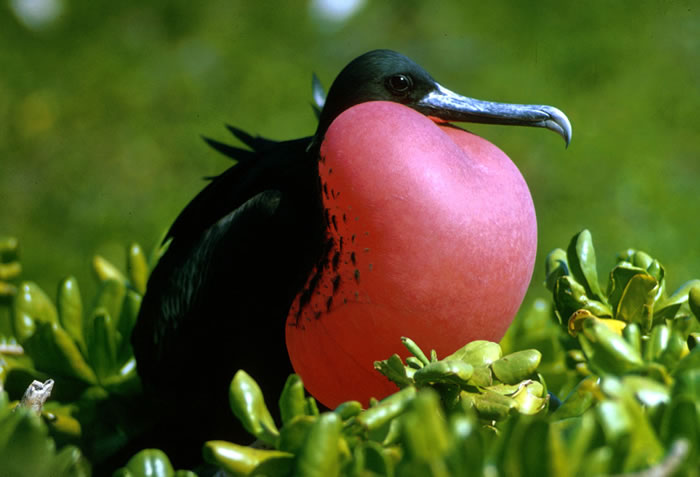 ...and headed off to town to pick up some lunch for The Pony and maybe, if she felt up to it, some lottery tickets for herself, having not bought any for a couple of weeks, which really reveals that she is, indeed, under the weather.
So there she was, waiting at Dairy Queen for a chicken strip basket, her throat not even up to scamming a non-upside down free Blizzard for next time by ordering the new month's official Blizzard treat: cotton candy. Yeah. Mrs. Hillbilly Mom adores cotton candy. The picture looked so refreshing. Colorful candy pellets sprinkled on top of vanilla almost-ice-cream. No need to modify it with chocolate. An as-is Blizzard. But alas, the throat wasn't having it.
So Mrs. HM waited ten minutes for the guy in the car ahead of her to order one of each frozen treat, from sundae to Dilly Bar to Blizzard to shake to dipped cone. He must have had carseats full of quadruplets, because he was the only head I could see, yet he kept handing stuff back and grabbing more.
Finally, I got The Pony's lunch and headed to the stoplight before crossing over to the gas station chicken store. I flirted with the thought of chicken for lunch, but I'm nearly chickened-out, what with having it for dinner on Sunday at home, then dinner on Wednesday at the school banquet, then for lunch at school on Thursday and Friday. As I sat at the red light, I saw that my special parking place was available. A white four-door truck pulled in to the gas station chicken store.
"Please don't take my spot! Please don't take my spot!" And my pleas were answered. The white truck took the next parking space up the hill, leaving the one on the flat for me! The light was still red. A tan car pulled in.
"Please don't take my spot! Please don't take my spot!" And my pleas were again answered. The tan car went around the building to the area by the air hose. The light was still red. But then it turned green! Just as a copper SUV made a right turn and pulled in front of me as I went through the light, and turned onto the parking lot just ahead of me.
"Please don't take my spot! Please don't take my spot!" And my please were 3rd-time answered. An old station wagon was backing up from the gas pumps and into the way, so the copper SUV stopped to wait. I stopped to wait. The station wagon fiddled and faddled. Then almost backed into the copper SUV, which peeled its tires backwards and drove around the bay to pull into the gas pump that the station wagon had just abandoned. I waited for that station wagon to clear my bumper. And just as I was able to pull toward my spot...
THE PASSENGER OF THAT WHITE FOUR-DOOR TRUCK FLUNG OPEN HIS DOOR AND GOT OUT. SO DID THE DRIVER. AND THEY BOTH WALKED INTO THE GAS STATION CHICKEN STORE,
LEAVING THE PASSENGER DOOR HANGING WIDE OPEN OVER HALFWAY ACROSS MY VERY SPECIAL PARKING SPOT!
Well. So much for fooling Mrs. Hillbilly Mom by answering her pleas, Even Steven!
I washed my hands of the whole attempt, wheeled T-Hoe around and up out of that parking lot, leaving the old cranky clerk to gawk from her smoking stance under the cedar visitor bulletin board.
I'd show them! No gas station chicken or lottery purchase for them! I headed home with only a four-piece chicken strip basket to show for my trouble.
Where I promptly whipped up a batch of super nachos for myself, featuring Tyson shredded chicken.